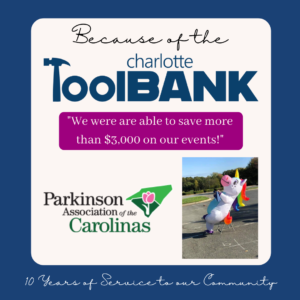 Since 2018, Parkinson Association of the Carolinas has borrowed 570 special event items valued at $39,507 from the ToolBank… for $1,185!
Get to know PAC…
Parkinson Association of the Carolinas (PAC) serves as a resource for individuals & their families affected by Parkinson's disease in the Carolinas, through education, community outreach & direct support. Whether it is through the more than 90 support groups they assist within North and South Carolina, free yoga and dance workshops or monthly educational newsletters, PAC is an amazing community resource for those who are touched by Parkinson's Disease.
Need help? PAC's toll-free resource line (866.903.7275) is answered by their Program Coordinator who can provide information about Parkinson's disease and details on resources.
Learn more about PAC by visiting their website.
Check out when they joined our friend Wilson on Wilson's World.
Join us next month to learn about another ToolBank Member Agency!